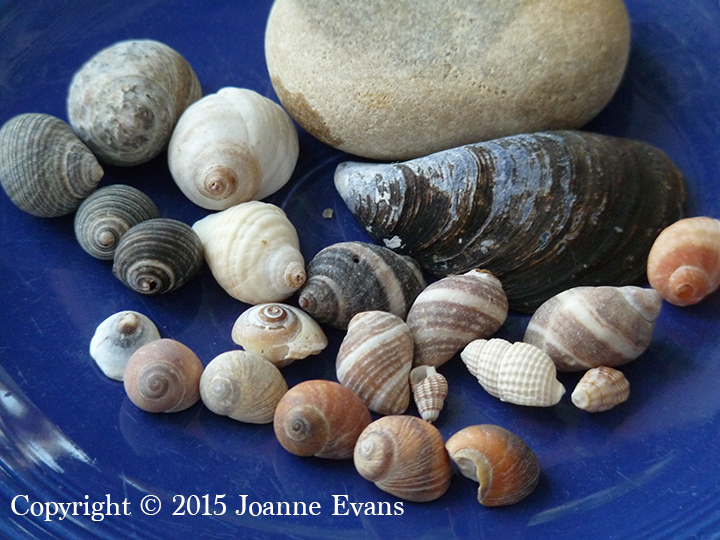 In July, I had a watercolor demonstration, Seashell book signing, and paintings for sale at the very special - Hartwell House Inn in Ogunquit, Maine. It was such a wonderful experience; one we will always treasure. On Sunday before we checked out we ran back down to Marginal Way to see if we could shoot a video of the seashells found along this gorgeous quintessential Maine coastline.

Marginal Way is one of the loveliest paved walking paths on the New England coast and I have walked Marginal Way many times over the years - but have never looked for shells until this trip. For the most part you should not stray from the path but we found a little area that was safe to climb down to the rocks. There we found a variety of Dogwinkles and Periwinkles. Besides the more common brown/black Periwinkles we found a lot of Smooth Periwinkles. Smooth Periwinkles are smaller and more colorful than the Common Periwinkles. The above photo is of the larger Common Periwinkles, Dogwinkles, also called Dog Whelks (some are all white and some have white stripes), three little New England Whelks, and the orange/peach or white colored Smooth Periwinkles and one Tortoiseshell Limpet.

Here is the video we shot - and I meant to say SEASHELLS in the beginning...not rocks - believe me there are plenty of rocks to be found! While we shot the video we were careful not to disturb the many Eider ducks resting on the rocks close to the water. The end of the video was very shaky so I cut the end and I will post a photo of the Eider ducks below.