After weeks of record snowfall here in Massachusetts, we finally got a break and headed for the seashore. I have been wanting to go to R.I. to visit the Audubon in Bristol and to get down to the beach in Newport. Both visits turned out great. We had a nice walk through the snow at the Claire D. McIntosh Audubon Wildlife Refuge (where I hope to have a book reading and signing this summer) and then made our way down to Second Beach in Newport.
We bundled up and headed out on the beach and was greeted by seagulls dropping Surf Clams. (They do this to break the shells so they can feast on the tender clams inside.) The beach was littered with many whole and broken bits of surf clams. There were also tons of slipper shells. We found a few scallop shells, jingle shells, and razor clams. Down near the end of the beach nearer to
Sachuest Point
National Wildlife Refuge I found several Northern Moon Snails. Many of the shells we found were a beautiful dark blue - quite remarkable! All in all a wonderful walk on the beach.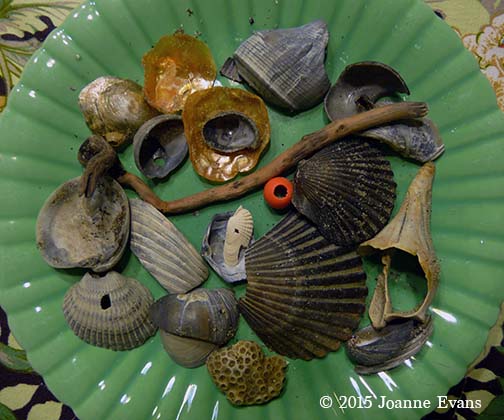 Second Beach seashell collection.